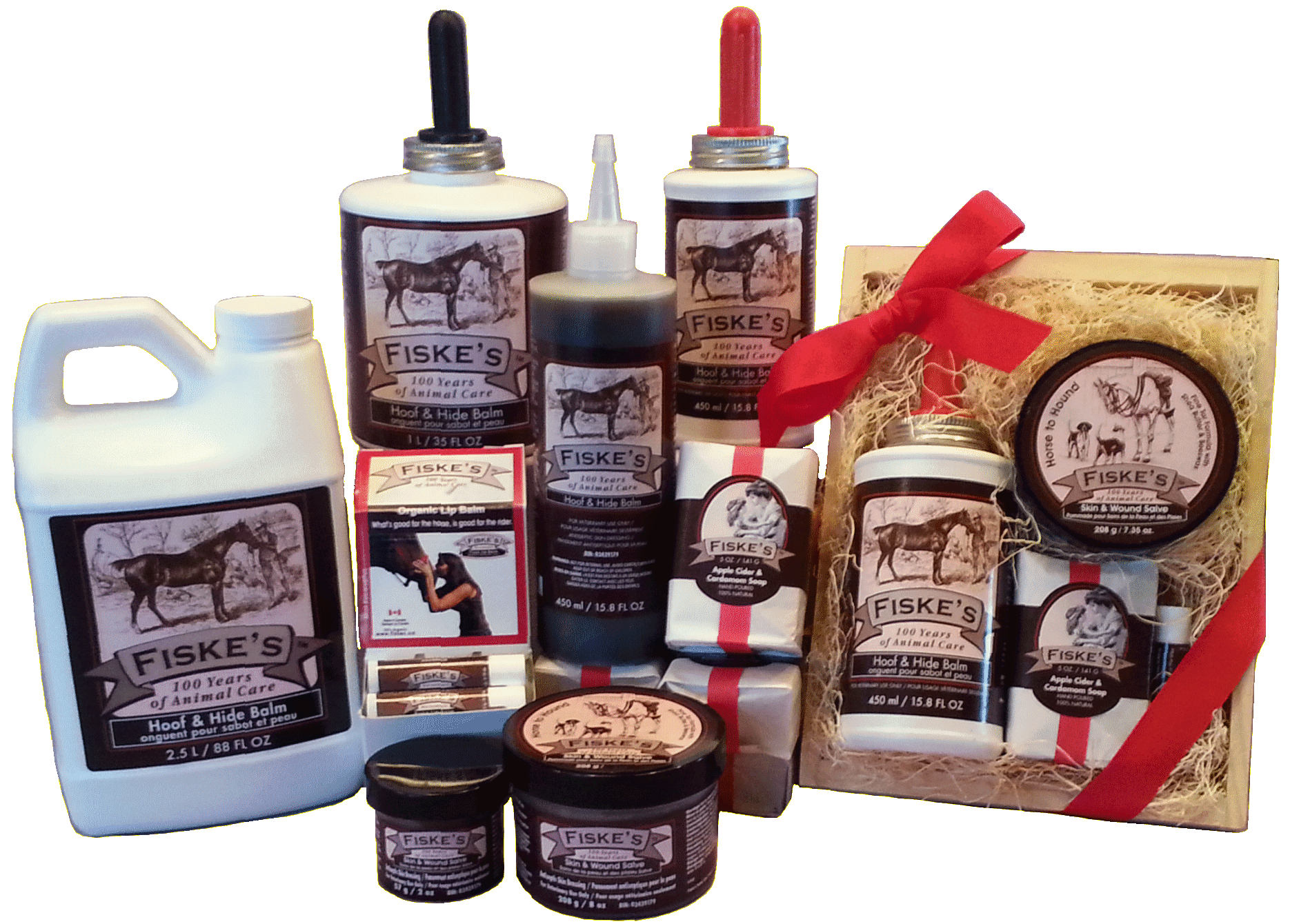 Animal Skin, wound, Hoof, Hide and Rider Care

It is 100% natural product, 100% safe, 100% affordable and 100% trusted.

Fiske's is a 100 year old veterinarian designed formulation that has been recommended by livestock professionals and farriers for over a century. It's multi-use functionality makes it unique and separates it from other products. Typically the consumer purchases one product for each treatment need, Fiske's is unique as it is formulated to assists in recovery for a multitude of topical veterinarian needs.

Fiske's Animal Care Products are a blend of ALL NATURAL ingredients that contribute to the overall effectiveness as it treats mud fever, scald, scratches, ringworm, mange, rain rot, itchy tail, sweet itch, dandruff and MORE – quickly and easily. It is not just one active ingredient but the combination of antibacterial, antifungal, anti-inflammatory and antiseptic ability fighting agents. It was designed 100 years ago when one medicine was used to treat a variety of problems rather than having a specific treatment for each condition as is more common today.

Fiske's is often used for all these uses (and More!)

• Scratches
• Mud Fever
• Hot Spots
• Dandruff
• Itchy Tail
• Proud Flesh
• Girth Boils
• Scald
• Sweet Itch
• Mange


Available in 3 sizes, 450ml with brush, 1 ltr with brush and 1.9 ltr refill

From a hoof conditioner and restoration treatment , to a thrush remedy, Fiske's Hoof & Hide Balm is formulated to help increase hoof strength, support flexibility, and prevent cracking. Apply with a brush applicator, or syringe. Fiske's hoof dressing is proven to provide fast, soothing relief for overworked, overheated hooves. It helps supports hoof health in several ways, and starts working to reduce hoof heat within one hour. Fiske's Hoof & Hide Balm is an easy to apply therapeutic conditioner liquid that creates a breathable moisture barrier to help maintain a long-lasting moisture balance.

Builds and Maintains a Healthy Hoof Wall
Enhances natural hoof colour without artificial chemicals or dyes
Brush-in-cap applicator makes application fast and keeps hands clean
Contains antibacterial and anti-fungal agents to help prevent infection
Helps restore + support flexible, healthy hooves
Regular use of Fiske's will restore and protect the frog, sole, heel, and coronary band with a breathable moisture balance
Prevents Hardened Frogs, Hoof Dryness, and Contracted Heels
Promotes Healthy Hoof Growth
Excellent Hoof Packing
Treats Abscesses Before or After they have Blown Out
Fiske's Hoof and Hide Balm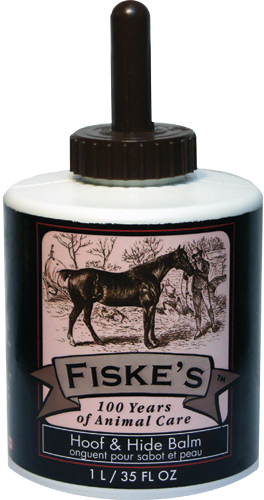 Fiske's Skin & Wound Salve
Available in 2 sizes, 57 gr and 208 gr

(Skin & Wound Salve) Skin Treatment and powerful Fungus fighter. Great for difficult-to-manage skin conditions in horses. Quickly eases suffering and treats ringworm, thrush, hoof rot, ears & skin fungus/infections, allergic reactions, hives, scratches, rain rot, sarcoids, hotspots, and more. Try it on dandruff and itchy dry tails, helps grow healthy manes and tails.

Fiske's 100% Organic Lip Balm
Menthol, Eucalyptus, Beeswax
Benefits dry, cracked and chapped lips quickly. Excellent treatment for cold sores.
Fiske's Apple Cider & Cardamom Soap
Apple Cider & Cardamom Soap with Nutmeg and Cinnamon


Made from natural oils of olive, palm, coconut, and castor, with organic shea butter. This gentle soap is made using the traditional method. This time honoured method yields a soap which is 1/3 naturally occurring glycerine and 2/3 cleansing soap. As a result, this soap cleans and moisturizes at the same time!


We intentionally add extra oils to further increase the moisturizing properties of the soap. The paper bag package can be recycled or composted, and cotton ribbon is 100% biodegradable! The over 5 oz. large size bar delivers extended use!
For Human Use!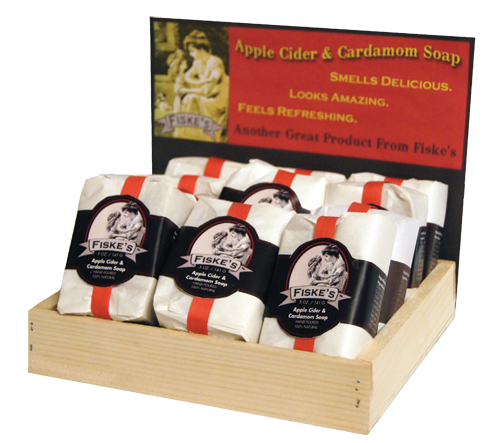 • Rain Rot
• Itchy Ears
• Ring Worm
• Repel Lice and Ticks
• Repels Bots, Horse Flies, Barn Flies, and Mosquitos
• Relieves and Repairs Inner Ear Infestation
• Reduces Swelling from Bites and Stings
• Soothes and Relieves Itching• Safe to use around the Face and Muzzle